Cetirizine is an antihistamine available in over-the-counter (OTC) medicines that treat symptoms due to hay fever or other outdoor and indoor allergies. It may be written as cetirizine or cetirizine hydrochloride (HCl), but it is the same active ingredient. Cetirizine can be the only active ingredient in an allergy medicine, or it can be found in medicines that relieve other symptoms, such as nasal congestion.
Cetirizine is approved by the U.S. Food and Drug Administration (FDA) and is safe and effective when used according to label directions. But keep in mind that not all medicines are right for all people. For example, cetirizine can pass into breast milk, so it is not recommended for women who are nursing.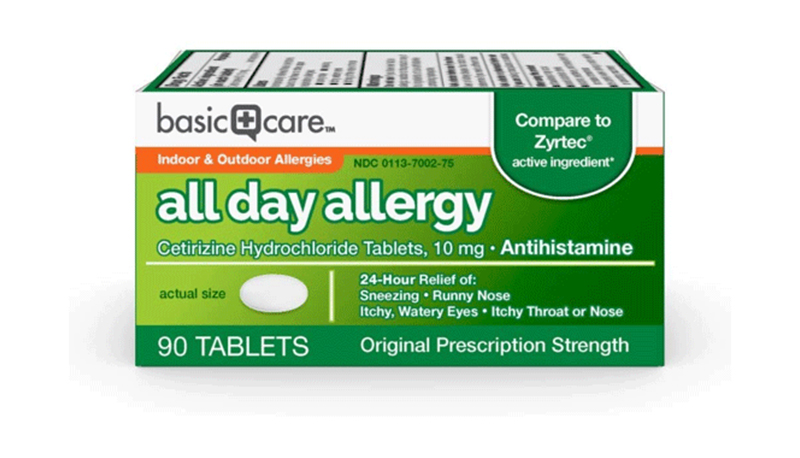 When using medicines containing cetirizine, drowsiness may occur
You should avoid alcoholic drinks
You should use care when driving a motor vehicle or operating machinery
You have liver or kidney disease. A healthcare provider may determine that you require a different dose
You are taking tranquilizers or sedatives
You are pregnant
You are age 65 or older
You have ever had an allergic reaction to cetirizine or to an allergy medicine containing hydroxyzine
You are breastfeeding
You have an allergic reaction. Get medical help right away
You take too much. Immediately contact a healthcare provider or the poison control national helpline
Talk to a healthcare provider before giving an OTC medicine containing cetirizine to a child under the age of 6
Click here for more information on giving OTCs to children
Please read the Drug Facts label carefully for active ingredient information for specific products, since some may have more than one ingredient. If you have questions about any of the medicines you are taking or if you have any unexpected side effects, talk to a healthcare provider. Keep all medicines out of the reach and sight of children.
Source: KnowYourOTCs
See also: Acetaminophen