Aluminum hydroxide is an antacid available in over-the-counter (OTC) medicines that relieve heartburn, acid indigestion, sour stomach, and upset stomach. Aluminum hydroxide can be found in heartburn medicines that contain more than one antacid active ingredient. It can also be found in medicines that treat other symptoms, such as gas.
Aluminum hydroxide is approved by the U.S. Food and Drug Administration (FDA) and is safe and effective when used according to the Drug Facts label. Antacids containing aluminum hydroxide may interact with certain prescription drugs. If you are taking a prescription medicine, do not take an OTC medicine containing aluminum hydroxide without consulting a healthcare provider.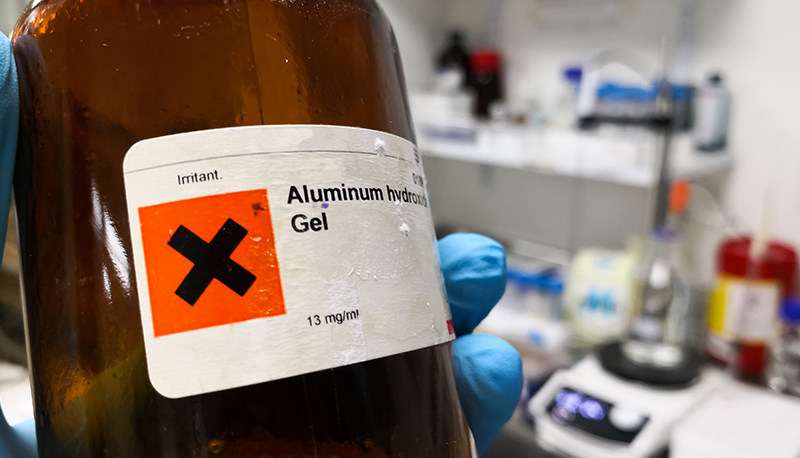 You should never take more medicine or for a longer period of time than what the label says
Certain heartburn medicines may also contain the active ingredient magnesium hydroxide
Carefully read and follow the Drug Facts label
Speak with your healthcare provider if you are on a magnesium-restricted diet
Ask a healthcare provider before use if you are taking a prescription medicine
You have kidney disease, unless you are under the supervision of a healthcare provider
Tamper-evident packaging features such as seals, locks, and films are not clear or seem broken
Your symptoms last more than two weeks
You take too much. Immediately contact a healthcare provider or the poison control national helpline
Talk to a healthcare provider before giving an OTC medicine containing aluminum hydroxide to a child under the age of 12
Click here for more information on giving OTCs to children
Aluminum hydroxide may not be contained in all products sold under these brands. Please read the Drug Facts label carefully. If you have questions about any of the medicines you are taking or if you have any unexpected side effects, talk to a healthcare provider. Keep all medicines out of the reach and sight of children.