Capsaicin is an external analgesic available in over-the-counter (OTC) medicines that temporarily relieve minor aches and pains associated with arthritis, simple backache, strains and sprains, and bruises. Capsaicin is also the chemical that makes chili peppers taste hot. When used as an active ingredient in topical pain relief medicines, capsaicin produces a warming sensation in the treated area. Capsaicin can be found in single-and multi-ingredient topical pain relievers.
Capsaicin is approved by the U.S. Food and Drug Administration (FDA) and is safe and effective when used according to label directions. After applying a topical pain reliever containing capsaicin, be sure to wash your hands thoroughly with soap and water. If you are using the medicine to treat hand pain, you should wash your hands after 30 minutes.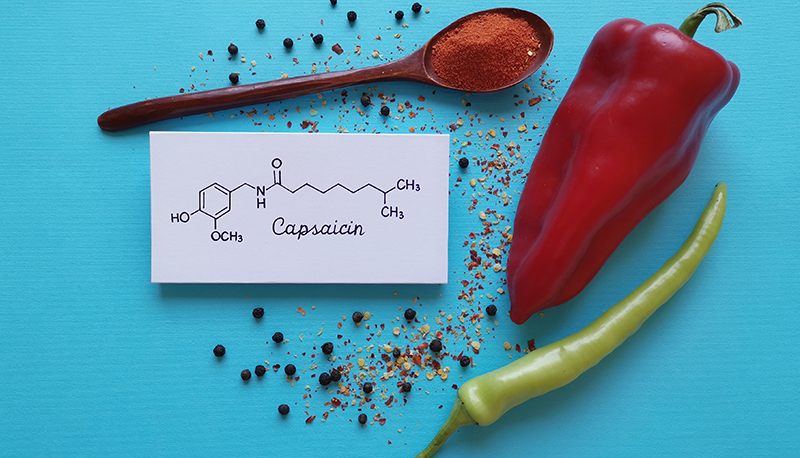 These products are for external use only
You should not bandage, use a heating pad on, or expose the treated area to heat or direct sunlight
You should avoid getting the medicine into your eyes or nose mucous membranes
You should not apply the medicine before or after strenuous exercise
A temporary burning sensation may occur upon application but usually disappears in several days
You should not apply to wounds, or damaged, broken, or irritated skin
You are pregnant or breastfeeding
You are allergic to chili peppers
Your condition worsens or if symptoms last for more than seven days or clear up and return again within a few days
Redness is present or irritation develops
A severe burning sensation occurs
You accidentally swallow the medicine. Immediately contact a healthcare provider or the poison control national helpline
Talk to a healthcare provider before using an OTC topical pain reliever containing capsaicin on a child under the age of 18
Click here for more information on giving OTCs to children
Capsaicin may not be contained in all products marketed under these brands. Please read the Drug Facts label carefully for active ingredient information for specific products. If you have questions about any of the medicines you are taking or if you have any unexpected side effects, talk to a healthcare provider. And of course, keep all medicines out of the reach and sight of children.
Source: KnowYourOTCs
See also: Cetirizine