Acetaminophen is an internal analgesic available in over-the-counter (OTC) medicines that temporarily relieve minor aches and pains and reduce fevers. Acetaminophen is also available in prescription medicines combined with other ingredients, and on some prescription labels it may be abbreviated as APAP. It will never be abbreviated and will always say acetaminophen on Drug Facts labels.
Acetaminophen can be the only ingredient in oral pain relievers and fever reducers or it can be found in medicines that contain more than one active ingredient to treat migraines. Acetaminophen can also be found in medicines that treat occasional sleeplessness, the multiple symptoms of the common cold, and symptoms associated with menstruation. For individuals who cannot take an oral medicine, acetaminophen is available in single-ingredient rectal suppositories.
Acetaminophen is approved by the U.S. Food and Drug Administration (FDA) and is safe and effective when used according to label directions. Because so many medicines contain acetaminophen, it is important to check the label to see which medicines contain acetaminophen and to never take more than the maximum daily dose listed on the label. You should never take more than one medicine that contains acetaminophen at a time or use it for a longer period of time than what is recommended on the label. Taking too much acetaminophen can cause an overdose and may lead to liver damage.
If you ever have questions on your health or the health of a family member, talk to your healthcare provider.
Acetaminophen Awareness Coalition
Acetaminophen is in more than 600 prescription and over-the-counter medicines. When used as directed it's safe and effective, but taking too much can lead to liver damage. Do you know your dose? Watch this video
See much more information at: KnowYourDose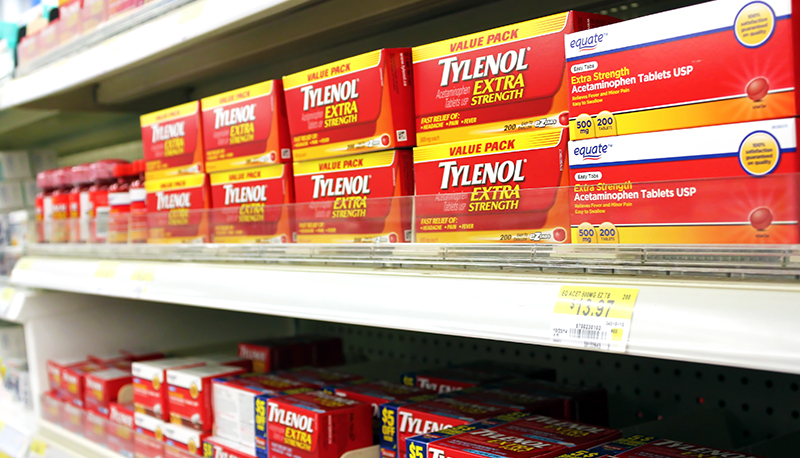 Severe liver damage may occur if you take more than the maximum daily adult dosage in 24 hours, or if you drink three or more alcoholic drinks every day while using the medicine
Do not use with other prescription or OTC medicines containing acetaminophen
Carefully read and follow the Drug Facts label
Taking more medicine than the label says or for longer than the label says can cause health risks
Learn how to appropriately use medicines that contain acetaminophen through the Know Your Dose campaign
You are currently taking any other acetaminophen-containing prescription or OTC medicine. Acetaminophen may be written as APAP on prescription labels, but it is the same active ingredient. Taking too much acetaminophen can lead to an overdose and may cause liver damage
You are allergic to acetaminophen
Tamper-evident packaging features such as seals, locks, and films are not clear or seem broken
You are currently using another medicine containing an internal analgesic active ingredient (e.g., aspirin, magnesium salicylate, naproxen sodium, ibuprofen, and ketoprofen)
You have liver disease
You are taking the blood thinning drug warfarin
You drink three or more alcoholic drinks a day
You are pregnant or breastfeeding
Your fever gets worse or lasts more than three days, or if your pain gets worse or lasts for more than 10 days
New symptoms occur or redness or swelling is present
You take too much. Immediately contact a healthcare provider or the poison control national helpline
Acetaminophen-containing medicines are available in different dosage strengths. Do not give an OTC medicine containing acetaminophen to a child that is only intended for use in adults as this would provide more than the recommended dose and may cause liver damage
Read the label for proper child dosing instructions. Contact a healthcare provider as directed
For liquid medicines, only use the dosing device enclosed with the medicine
Talk to a healthcare provider before giving acetaminophen to a child with liver disease
Severe liver damage may occur if your child takes more than the maximum daily dosage in 24 hours or with other medicines containing acetaminophen
If your child has a severe sore throat that lasts for more than two days, is accompanied or followed by high fever, headache, nausea, or vomiting, contact a healthcare provider immediately
Pay attention to the concentration (or strength) of infants' single-ingredient liquid acetaminophen when treating your child. The makers of infant single-ingredient liquid acetaminophen have changed the medicine from a highly concentrated dose to a less concentrated dose (80 mg/0.8 mL to 160 mg/5 mL). During this transition, old medicines could still be on store shelves and in your home. To avoid dosing errors, consumers, parents, and caregivers should carefully read the Drug Facts label on the package to identify the concentration of the liquid acetaminophen (in mg/mL), dosage, and directions for use. Parents and caregivers should ask a healthcare provider if they have any questions
For information on dosing of acetaminophen-containing medicines, visit the American Academy of Pediatrics
Click here for more information on giving OTCs to children